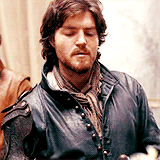 Aníquє. 24. Dwarf. ISFJ.
Hufflepuff. Dutch.
Protect Athos at all costs.


"At first glance he seems the more indepenent one but I actually think he's the most dependent on the others."
katweazle said:
Also hey if you ever feel down just imagine Thorin dancing in the bathroom in nothing but his underwear, hips swaying, using a tooth brush as mic, perfoming Bon Jovi's 'King of the Mountain' (and then the door opens and Kili and Fili bust him and laugh their asses off)
oh god this is so beautiful i want to keep it
→"I need more Richard Armitage on my dash" (1102 of ?)
you come to paris to kill athos and end up saving his life
Shall I die without justice?
#Musketeers 2. I am never off set… I am never out of character except with Roger the Horse :)
i still haven't watched the hobbit trailer because i'm 100% sure i'll cry
sometimes i see meta i wrote a while ago and i'm like 'wow did i say that' 
Athos + d'Artagnan

"D'Artagnan has it in him to be a fine Musketeer, perhaps the greatest of us all."