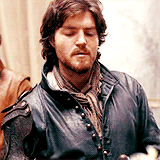 Aníquє. 24. Dwarf. ISFJ.
Hufflepuff. Dutch.
Protect Athos at all costs.


"At first glance he seems the more indepenent one but I actually think he's the most dependent on the others."
On Athos
A natural leader who doesn't give advice. A father (whether figurative or literal) who is firm about what he expects but doesn't enforce it.  Humble but high-minded.  Mild-mannered but military. Says more than the others without saying anything. The easiest to please (particularly materially) but the most unhappy. Even-tempered but subject to all manner of humours, particularly ill ones. A voice that is sometimes 'melodious' and sometimes only comes with a 'violent effort' - but one that is always listened to. Hard and world-weary to the point of despair, but with more easy faith and romantic (sentimental?) ideals about friendship, loyalty and royalty than the other three put together.

Quite aside from fancying the pants off him, one has to admire how we've seen all of this from Tom Burke before the BBC series has even ended, because playing this man can be no easy task.
breval said:
For the three character thingy : Athos (obviously) and sooo D' Arty too and for some reason Raoul and Madame de Chevreuse (I hope you read the books or the last two won't make any sense ) ... out of the musketeers fandom I have to say Mr Darcy :) (who make me think of Athos sooo the same ,lol)
aw i love darcy, the grumpy butt
Name three characters you think of when you think of me.
Artist: Bastille
Title: Things We Lost In The Fire
82,251 plays
Bastille - Things We Lost in the Fire

The future's in our hands and we


                   will never be the same again
Reasons why rewatches are important, I completely missed Athos 'comeatmebro'ing the first time around. That man is a treasure.

*AAAWWW*

ahaha this is an absolute joy.